Explore a Suite with Sea View and Private Pool in Crete
Cape Suites
Discover a captivating Suite With Sea View and Private Pool in Crete
Our luxury suites in Crete are refined and newly-built spaces that feed and enlighten the mind & soul, creating unforgettable memories.
Unwind in the elegantly appointed interiors and gaze at the breathtaking views of the Seaside A Lifestyle Resort With Sea View and Private Pool in Crete. Placed artfully on the verge of a cliff and offering a dramatic view of the Mediterranean and its endless blue, our suites with a private pool in Crete constitute the ideal space for calming your mind and upgrading your overall experience.
Earthy textures combined with custom wood designs are some soft touches that contribute to the contemporary and elegant interiors and unique aesthetic of our luxury hotel in Crete. Measuring 26-30 sqm, it can comfortably accommodate up to three people, as it features a brand new main bed and an extra sofa bed.
Find your safe haven at the Cape Suites
Admire the soul-filling view of the Aegean from your private terrace. Dive into your private pool and unwind in the sun on one of the loungers on your sun-kissed deck. Enjoy some carefree time with your other half, and dedicate some time to take in the natural, unspoiled scenery around you, while enjoying the delicious fruit and fine wine provided upon your arrival.
Get ready and unready in the elegant marble bathroom in front of the magnifying mirror, and finish your day at your designated bathtub or shower. All the necessary bathroom amenities are provided to make your stay extra comfortable.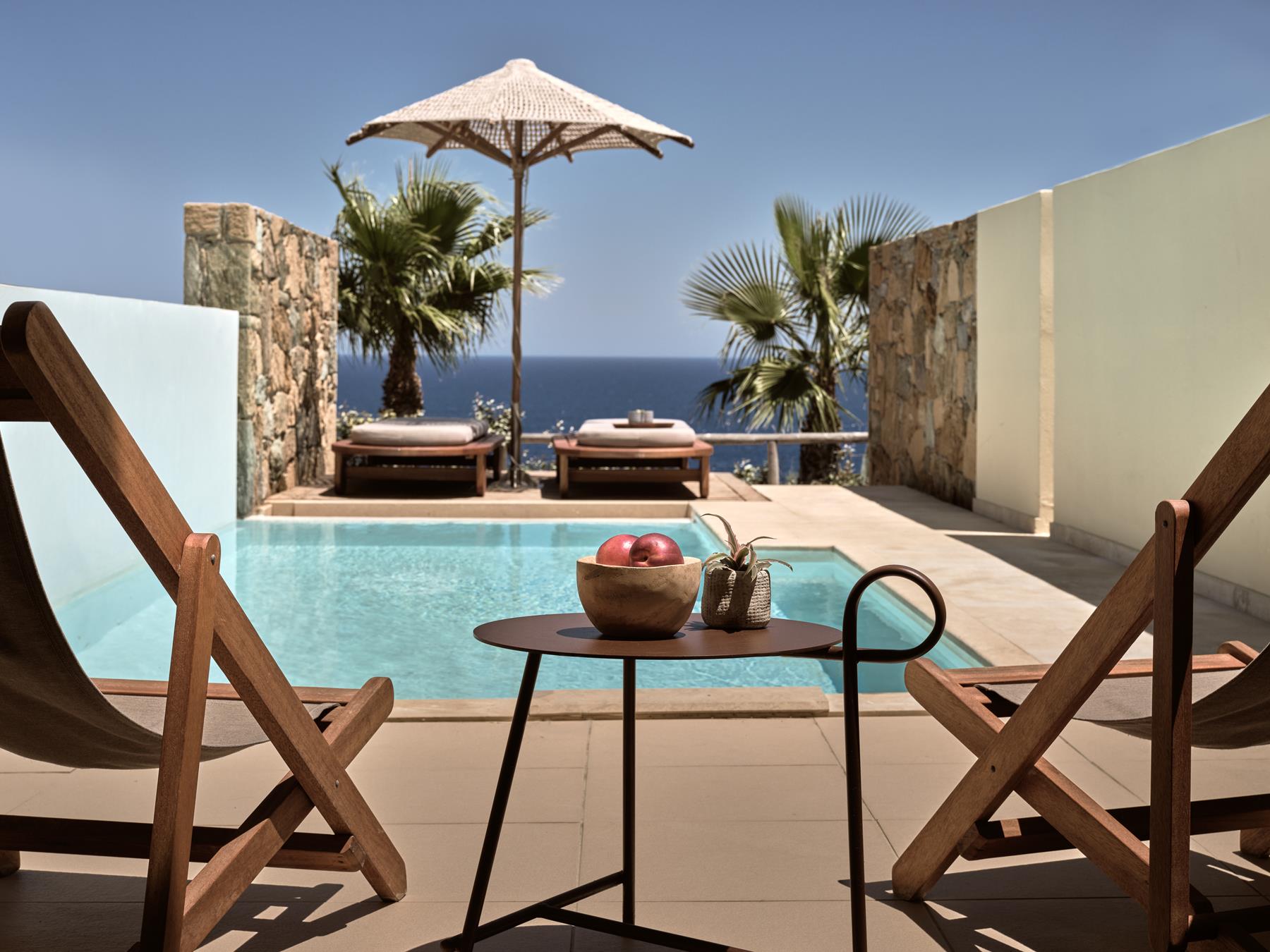 The Suite With Sea View and Private Pool
in Crete and its amenities:
Air Conditioning
Bath Amenities
Cable-Satellite TV
Closet
Coffee and tea making facilities
Direct dial telephone
Flat Screen TV
Hairdryer
Card Door Locks
Magnifying Mirror
Bathroom with Bathtub or Shower
Private balcony or terrace
A special VIP welcome: a fruit basket and a bottle of fine wine
Movie & Sport Channels
Non-smoking rooms
Safe Deposit Box
Soundproof Windows
Brand new beds and mattresses
Wake-up Call
Writing/Working Desk
Wi-Fi Internet access(free of charge)
Refrigerator
Marble Bathroom
Book Now
Photo Gallery