Explore the Casa Swim Up Room with Sunset View in Crete
Casa Swim Up Sunset View
Take your vacation to the next level with a Casa Swim up Room with a Sunset View in Crete
Our recently renovated Casa Swim up Rooms provide the perfect, serene setting for creating lifelong memories.
Upgrade your romantic getaway with the Casa Swim up Room with a Sunset View in Crete. Imagine waking up to the Mediterranean light beaming through your window and taking a refreshing dive in a pool to start your day with a mesmerising view in the foreground. Soak up the sun while unwinding on the secluded veranda or lying on a sunbed in your own private section.
Soothe your senses in a carefully decorated, spacious room of 22-26 sqm. The neutral tones and wooden elements create a rustic, coastal aesthetic with a special feel. With a bright interior, a sharing swimming pool with an amazing mountain / sunset view and a balcony with a spectacular sea view.
Book a home away from home, not just a Crete accommodation
These exquisite spaces are so much more than simple double rooms in Crete. They constitute the ideal escape from the overwhelming hustle and bustle. Your relaxation does not end after your morning swim, on the contrary, it starts within the room premises.
Put on your bathrobe and slippers and pamper yourself with the premium bathroom amenities provided. Plan a quiet, restful afternoon with your partner and enjoy a glass of wine by the pool while admiring the magical sunset, which will entice you to keep staring unapologetically.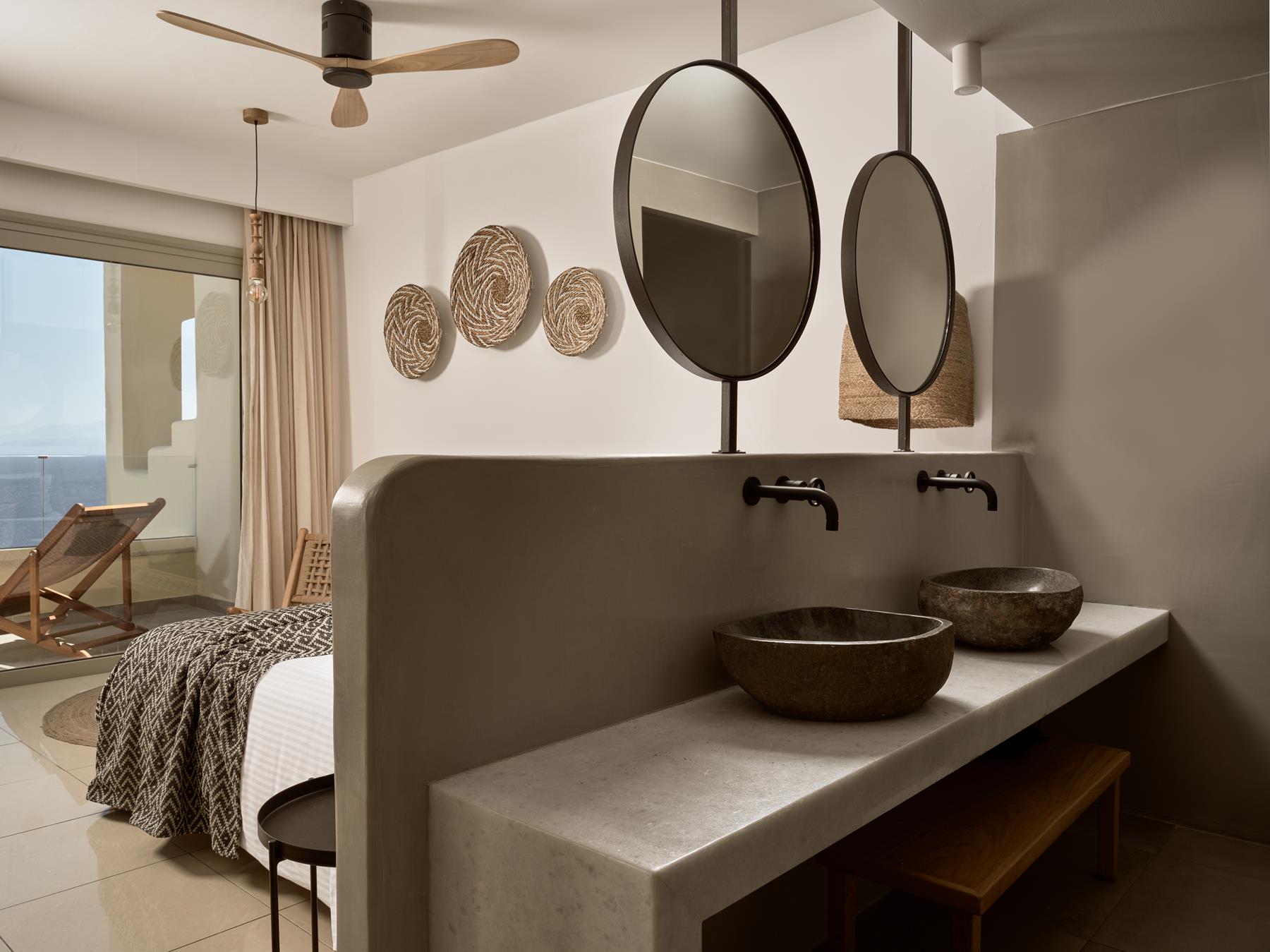 The Swim Up Room with Sunset View in Crete
and its amenities:
Air Conditioning
Bath Amenities
Cable-Satellite TV
Closet
Coffee Facilities
Direct dial telephone
Flat Screen TV
Sea View
Hairdryer
Private Balcony or Terrace
Magnifying Mirror
Sofa bed
Pool View
Movie & Sport Channels
Non-smoking rooms
Safe Deposit Box
Soundproof Windows
Brand new beds and mattresses
Wake-up Call
Writing/Working Desk
Wi-Fi Internet access(free of charge)
Refrigerator
Bathrobes & Slippers
Bathroom with Bathtub or Shower
Book Now
Photo Gallery